Well, rumor has it that lots of new people subscribed to GrowingUpAustin.com at the regional parenting blog's launch party last Saturday.
Genuine Joe's was a great host, except the other patrons shut the door to the cellar because we were being too loud…
The giveaways were a hit with the grown ups…
The coloring was a hit with the kids…
How about those t-shirts, where can I get one of those?
The cutest kids might have been Marley (with Kellena)
or Clare and Miles (with Amy)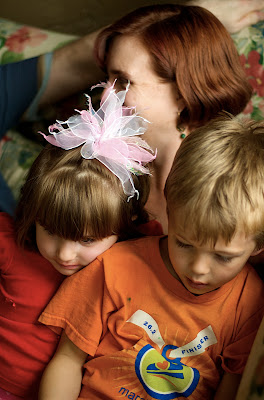 or, in a rare appearance on this blog, Buttercup
and Sparkles.
That's all the news for now. Thanks so much to everyone who came out! It was a great time! I collected ideas for the blog from people at the party. I'll post about the ideas in the coming months.  Stay tuned…
UPDATE: I forgot to say that the pictures of the launch were taken by Marc Opperman. Thanks Marc!